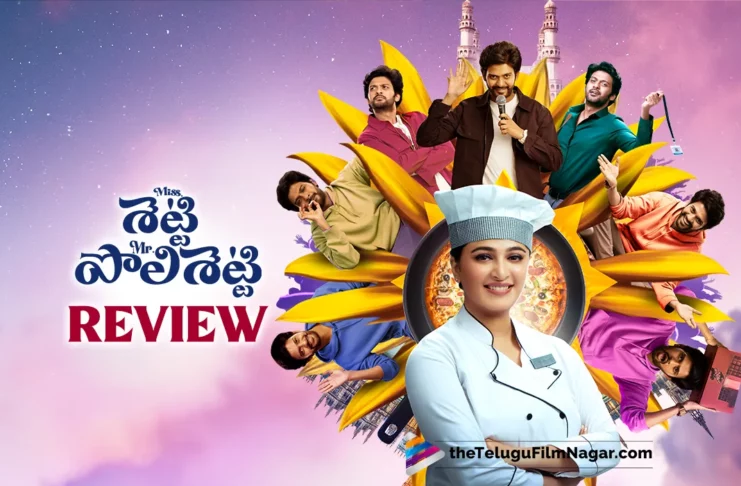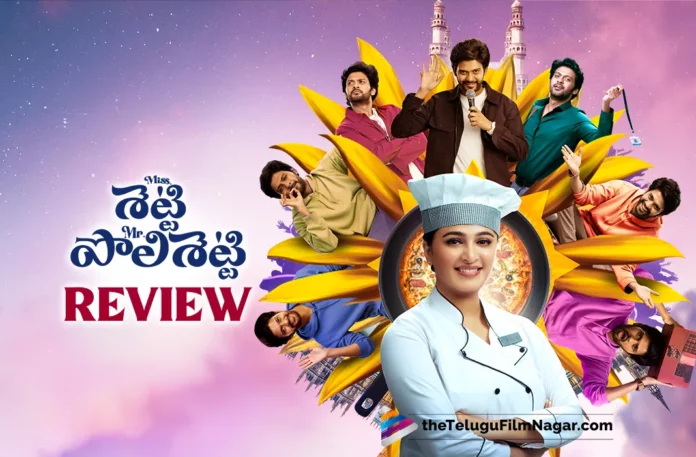 Miss Shetty Mr. Polishetty Synopsis:
Miss Shetty Mr. Polishetty is a romantic comedy with Naveen Polishetty and Anushka Shetty in the lead roles.  The film impressed audiences with its trailer and promotional material.  Miss Shetty Mr. Polishetty is filled with fun and set in the context of a couple from two different backgrounds.  The standup comedy being chosen as the main theme in this film has grabbed the audience's interest.  The movie already received a positive response from Megastar Chiranjeevi, who called it an out and out entertainer about the ideology of young people these days.  The film was released today and continues to receive love and great responses from the audience. 
Mahesh Babu P., is the writer and director of this new age drama, Miss Shetty Mr. Polishetty.  Vamsi-Pramod produced the film under the banner of UV Creations.  Radhan composed the songs and Gopi Sundar provided the background score.  Nirav Shah is the cinematographer, while Kotagiri Venkateswara Rao is the editor.
Telugu FIlmnagar
Watch Telugu Full Movies Here:
Miss Shetty Mr. Polishetty Movie Review:
Miss Shetty Mr. Polishetty is a modern story with which the youth can connect .  The blend of a woman with contemporary thoughts and a younger man was beautifully depicted.  Anushka gracefully carried her role and Naveen Polishetty was perfect with his comic timing.  The story overall was a different idea in Tollywood now which has worked clearly without any doubt.
Plot:
Anvita Shetty (Anushka Shetty) is a chef in London who has lost her mother and does not believe in marriage due to some personal reasons.  She feels lonely after her mother's demise so she plans to have a baby, but with a sperm donor.  She travels to India for the same purpose and chooses Siddhu (Naveen Polishetty) who is an aspiring standup comedian.  However, her decision shocks Siddhu.  The rest of the film, Miss Shetty Mr. Polishetty is about how Siddhu and Anvita handle the situations and does Anvitha have a baby with Siddhu?
On Screen Performances:
Naveen Polishetty carries his role as Siddhu perfectly.  He once again chose comedy, which is his strength and has successfully delivered a fun filled movie.  His standup comedy shows which were shot with a live audience have worked well.  Naveen Polishetty maintained energy throughout the film.  Miss Shetty Mr. Polishetty is another blockbuster film in the lead pair's career. 
Anushka Shetty was charming as always on the big screen.  She played the role of Anvitha, a sophisticated middle aged woman.  Her ideology in this film has been very close to the younger generations now.  Her role was well balanced between being a strong, independent woman who has also been emotional when needed.
Off Screen Highlights:
Mahesh Babu P., has visualized the story of a modern couple with different ideologies and backdrops.  The filmmaker chose to narrate the core story of the film with a touch of humor all along.  This has worked well.  Choosing to deliver a story with a strong female lead and a confused male lead was a risky task, but it has been successful at the box office with Miss Shetty Mr. Polishetty.
Nirav Shah's cinematography was good, with great visuals in beautiful locations.  The visuals gave a fresh vibe to the whole film.
Production values were great and added quality to the film.  This can be experienced throughout the film.
End Note:
Miss Shetty Mr. Polishetty is a youthful tale that can be enjoyed by audiences of every age group.  This film is not a regular love story which makes it even more special.  Anushka Shetty and Naveen Polishetty gave outstanding performances that will make your ticket worth it.  Miss Shetty Mr. Polishetty movie is worth your time for everyone in the theater.
More Movie Updates:
Aadikeshava First Single: Sittharala Sitharavathi Promo Unveiled
Devil: The British Secret Agent Dubbing Begins
Click Here to Watch "Online Movies"