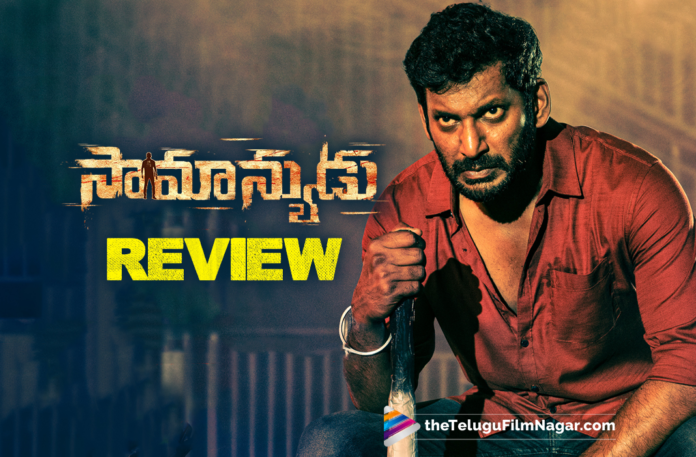 After quitting the Pongal race due to COVID, Vishal' s Samanyudu was finally released on 4th February, 2022.  Samanyudu is the dubbing version of the Tamil film Veeramae Vaagai Soodum.  Vishal did not promote the film in the Telugu states much this time due to COVID, but the Telugu audience are excited about this common man's story as shown in the trailer.
Cast And Crew:
Telugu FIlmnagar
Watch Telugu Full Movies Here:
Telugu Title – Samanyudu
Cast – Vishal, Dimple Hayathi, Yogi Babu, Raja Chembolu,Tulasi, Raveena Ravi and others
Producer – Vishal
Production Company – Vishal Film Factory
Director – Thu Pa Sarvanan
Music – Yuvan Shankar Raja
Cinematography – Kavin Raj
Editor – N B Srikanth
Pro – Vamsi Shekar
Samanyudu Telugu Movie Review:
Story:
A young and responsible citizen, Porus who hates the corrupted system around him in the society aspires and decides to join the Police department.  His father is also in the department as a head constable.  His sister who is a college student is being harassed by a stalker.  Another girl who is an animal lover and caretaker also faces the same issue of being harassed by a cop's son.  On the other hand, an activist who protests against a politician to close the factory owned by him which is causing dangerous diseases with its poisonous emissions.  How Porus gets affected with these three stories of his sister, the animal caretaker and the activist and how he solves these issues is the rest of the story.
On Screen Performances:
Vishal gave his best as the common man as he does regularly in all his films.  He is perfectly fit into the role.  Also, he does exceptionally well in the action scenes.  Dimple Hayathi managed her role decently in the romantic scenes.  Tulasi as mother is at her best. Yogi Babu delivered enough laughs.  Raja Chembolu's appearance and role is apt.
Off Screen Highlights:
The making of the film is exceptionally great.  The production values are too good to match the standards of the film.  Both cinematography and editing are very impressive.  The story is very gripping as it progresses and the second half of the film becomes interesting.  The story creates huge interest in the beginning of the film.  Though it lacks pace with the love story in between, it gets back on the track and becomes engaging towards the interval.  The background score is a perfect match.
Endnote:
The film Samanyudu shows the issues in a common man's life as the title suggests.  To be precise, it is a show of a common man's revenge.  The film has both emotional and mass elements to satisfy the common audience.  It is good stuff to watch with dramatic and commercial elements.  The film starts interestingly, lacks the pace in between, picks up again towards the interval, engages in the second half and finally satisfies the audience with a fine ending.
Samanyudu Trailer:
Also Read: Alia Bhatt Talks About NTR30