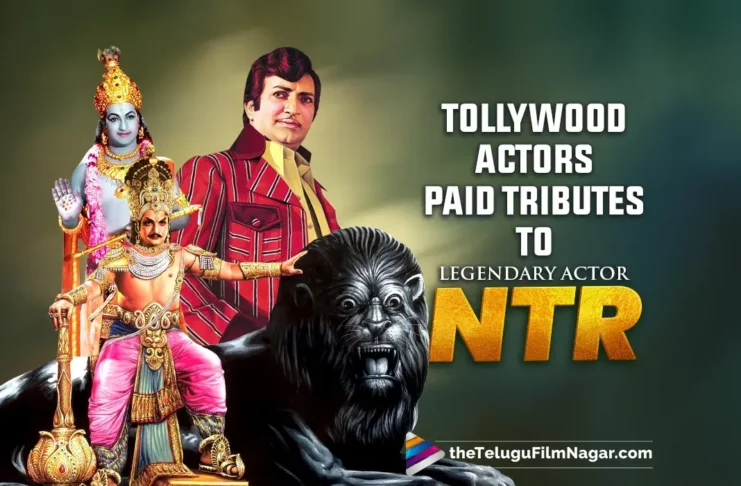 Yesterday was the 100th birth anniversary of the legendary actor Sr NTR Garu, as we all know. On this occasion, the late actor was remembered and paid tribute by the actors in Tollywood. The actor is also the former Chief Minister of Andhra Pradesh. He is remembered for the contribution he made to Telugu cinema and also for the service he provided to the state. Sr NTR Garu passed away at the age of 72 due to a heart attack in Hyderabad. He has 12 children, including the late actor Hari Krishna and Nandamuri Balakrishna. He is the grandfather of Nandamuri Kalyan Ram and Jr NTR.
Young Tiger #JrNTR gets emotional while paying tribute to his Grandfather #SrNTR @ NTR Ghat on his Birth Anniversary! #NTRCentenaryCelebrations #JoharNTR #TFNExclusive #TeluguFilmNagar pic.twitter.com/S8Qyf8CVmh

— Telugu FilmNagar (@telugufilmnagar) May 28, 2023
The actor, Jr NTR, visited the NTR Ghat yesterday to pay his respects to his grandfather and the magnanimous actor, Sr NT Rama Rao Garu. His uncle, Nandamuri Balakrishna, is also seen during this visit at the NTR Ghat, along with the Sr NTR family members. During this visit on this important day, Jr NTR is seen being emotional. 
Telugu FIlmnagar
Watch Telugu Full Movies Here:
నూటికో కోటికో ఒక్కరు… వందేళ్లు కాదు…చిరకాలం, కలకాలం మన మనస్సులో మిగిలిపోతారు. చరిత్ర వారి గురించి భావితరాల కి గర్వంగా చెబుతుంది.
అలాంటి కారణ జన్ముడు శ్రీ NTR.
తెలుగు జాతి ఘనకీర్తి కి వన్నె తెచ్చిన శ్రీ నందమూరి తారక రామారావు గారితో నా అనుబంధం నాకెప్పుడూ చిరస్మరణీయం.…

— Chiranjeevi Konidela (@KChiruTweets) May 28, 2023
Also, many Tollywood actors and celebrities remembered Viswa Vikhyatha Nata Sarvabhouma Sr NTR Garu and posted on Twitter yesterday. The actors include Chiranjeevi, Manchu Manoj, Manchu Vishnu, Rohith Nara, Sreenu Vaitla, Mahesh Babu, Aswani Dutt, and others.
Let's celebrate the 100th birth anniversary of the charismatic actor, our Anna garu, Nandamuri Taraka Rama Rao garu.😍🎉

His Magical aura and unforgettable performances have left an indelible mark on Indian cinema. ❤️
Johar NTR 🙏#NTRLivesOn#100YearsOfLegendaryNTR pic.twitter.com/DcZgwOwehZ

— Manoj Manchu🙏🏻❤️ (@HeroManoj1) May 28, 2023
Remembering the legendary icon Sri.NTR garu on his birth anniversary. I am still in awe of him as an actor. He still inspires a lot of actors even now.

I ain't going to talk about politics or affiliation or anything other than the following movie. 'Dana Veera Sura Karna'!

He… pic.twitter.com/szfiXBo4zI

— Vishnu Manchu (@iVishnuManchu) May 28, 2023
It is an honour and privilege to be a part of NTR Centenary Celebrations In Bahrain. I am overwhelmed by the love and affection shown by the Telugu People here. Thank you Bahrain! pic.twitter.com/G3k2comRKG

— Rohith Nara (@IamRohithNara) May 26, 2023
Remembering and Saluting the Greatest Legend on #NTRCentenaryCelebrations#100YearsofLegendaryNTR pic.twitter.com/4HaRsUxHx7

— Sreenu Vaitla (@SreenuVaitla) May 28, 2023
Honouring the legacy and timeless impact of the legend who reshaped Telugu cinema forever! #100YearsOfNTR#NTRCentenaryCelebrations pic.twitter.com/TJ0AI7cfIb

— Mahesh Babu (@urstrulyMahesh) May 20, 2023
On the occasion of Padma Shri, Dr. Nandamuri Tarakarama Rao's centenary celebration, @VyjayanthiFilms head @AshwiniDuttCh paid tributes. An image of Shri #NTR in the role of Sri Krishna filling the Vijaya Shankham in the Vyjayanthi flag logo was unveiled at the office of the… pic.twitter.com/lt6RosG74I

— 𝐕𝐚𝐦𝐬𝐢𝐒𝐡𝐞𝐤𝐚𝐫 (@UrsVamsiShekar) May 28, 2023
Other Celebrity Updates:
Tribute To Telugu Pride Sr NTR In Times Square
Sreeleela Participated In Ministry Of Tourism Event
Click Here to Watch "Online Movies"