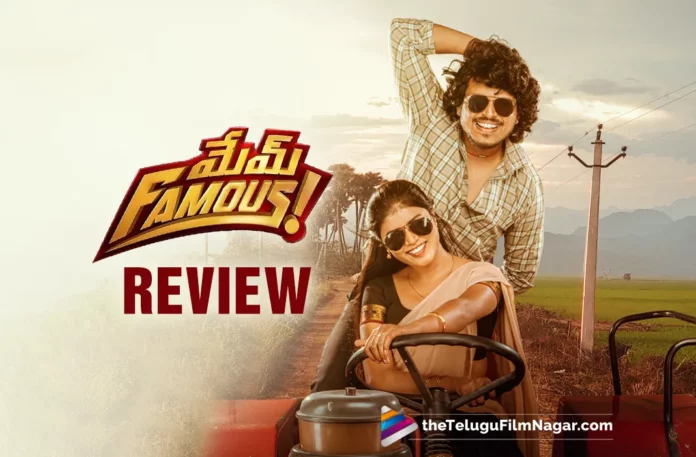 Mem Famous Telugu Movie Synopsis:
Mem Famous is a recent movie that was released today in theaters. This youthful entertainer is made by Sumanth Prabhas. The promotional material for this movie has been energetic and interesting. This small film has been supported by major artists and celebrities in the Telugu film industry, encouraging new talents. Recently, Mahesh Babu posted about the film, saying that it was a brilliant movie with some of the best technicalities and performances.
Mem Famous is written and directed by the popular YouTuber Sumanth Prabhas. Anurag Reddy and Sharath Chandra are the producers of the film in association with Chandru Manoharan under Lahari Films. The film stars Sumanth Prabhas, Mani Aegurla, Mourya Chowdary, Saarya, Siri Raasi, Kiran Macha, Anji Mama, Narendra Ravi, Muralidhar Goud, and Shiva Nandan. Kalyan Nayak composed the music for this film.
Telugu FIlmnagar
Watch Telugu Full Movies Here:
Mem Famous Telugu Movie Story:
Mem Famous is the story of three young men in a village called Bandanarsingapalli in Karimnagar. The three men, Mahesh, Durga, and Balakrishna, are rebellious and always playfully roam around their village. This behavior of theirs causes them trouble in the village, and at one point they decide to do something useful with their lives. The film also includes love stories, comedy, and emotions that are well blended into their daily lives. The rest of the story shows if these young men achieve their love and clear the problems in their lives.
Mem Famous Telugu Movie Review:
The film Mem Famous is a great attempt at first place by the cast and crew. Most of the cast in this film is very familiar, as they have already appeared on various platforms, including YouTube. The film is a fun-loving youthful movie that has every entertaining factor included in it. However, not only are the youth shown on one side doing playful and naughty things, but also family emotions are portrayed when needed.
Performances:
Sumanth Prabhas has undoubtedly been the center of attraction for the whole film with his boy-next-door feel. He has performed well with all the well-executed comic timing and emotions.
Mani Aegurla and Mourya Chowdary are featured in the film, along with Sumanth Prabhas. They have performed well in the roles with a local accent and essence.
Almost all the supporting cast members in the film have performed with ease.
Technicalities:
Sumanth Prabhas has done some good directorial work for the film, which is clearly seen throughout the whole film. Along with being the director, this young man is also the writer of the film and has managed to neatly pen the lives of youth, which are very similar to real life.
It is a bit shocking that almost everyone who worked on this film, including the major technicalities, is a debutant. However, their work is pretty impressive, and the hard work can be clearly witnessed on screen.
End Note:
Mem Famous is overall a youthful film that will no doubt entertain everyone. Don't miss this film in theaters, and enjoy the comic relief it provides.
More Latest News:
V Mega Pictures: Ram Charan Established A New Production House
Update On Superstar Mahesh Babu's SSMB28 Loading…
Click Here to Watch "Online Movies"