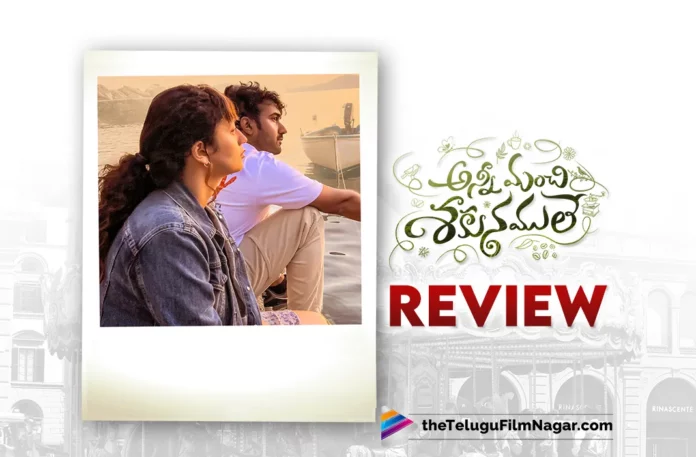 Anni Manchi Sakunamule Movie Synopsis:
Anni Manchi Sakunamule is the latest film that was released today on the big screen. The film stars Santosh Sobhan and Malvika Nair in the lead roles. This is a romantic drama that looks refreshing, with spectacular locations. B V Nandini Reddy directed this film after her last full-length film, Oh! Baby, in 2019. Santosh Sobhan and Malvika Nair have worked on recent films, Sridevi Shoban Babu and Phalana Abbayi Phalana Ammayi, respectively. All the promotional material for the film has received a positive response from audiences. 
Priyanka Dutt and Swapna Dutt have bankrolled Anni Manchi Sakunamule under their production house, Swapna Cinema, along with Mitra Vinda Movies. This film also features several big actors, including Rajendra Prasad, Rao Ramesh, Naresh, Gauthami, Sowcar Janaki, Vennela Kishore, Urvashi, and others. The music for this film was composed by Mickey J Meyer. Sunny Kurapati and Richard Prasad are the cinematographers of this film, and Junaid Siddiqui is the editor.
Telugu FIlmnagar
Watch Telugu Full Movies Here:
Anni Manchi Sakunamule Movie Story:
The film Anni Manchi Sakunamule is the story of two individuals, Rishi (Santosh Sobhan) and Arya (Malvika Nair), who are born into two close families. Their fathers, Prasad (Rajendra Prasad) and Sudhakar (Naresh) were friends who had some misunderstandings and would not be on talking terms. The film is about how the lead couple is affected by their families, and will they fall in love with each other?
Anni Manchi Sakunamule Movie Review:
The makers have already stated that this film does not have any masala or emotional family sentiments in it. It is a love story between two differently thinking individuals and the scenes are almost between them and their families. Most of the film is set in a hill station, and some parts of the film are in Italy, so there is scenic beauty throughout the film. The director also chose a little family drama this time, which was not too intense. Overall, it feels fresh to watch Anni Manchi Sakunamule on big screens.
Performances:
Santosh Sobhan has been working on feel-good movies and has delivered some of the best performances through them. This film falls into the same category. He plays the role of Rishi, whose father thinks that he cannot do anything in life. He gave a justified performance in the role he played in the film. Most guys in their youth can easily connect with his character.
Malvika Nair has recently delivered some of her other performances along with this film, Anni Manchi Sakunamule. Arya is a confident, independent, and strong woman, which has been portrayed well by the director. She is very elegant on the big screen with her grace and performance. She had not disappointed the audience in terms of her performance in the role.
The film also has an extended star cast, including Rajendra Prasad, Rao Ramesh, Naresh, Gauthami, Sowcar Janaki, Vennela Kishore, and Urvashi. Their screen presence and performance have been undoubtedly good.
Technicalities:
B V Nandini Reddy is one of the very few female directors in Tollywood. She has been delivering some of the best romantic love stories in the Telugu film industry. She started her directorial journey with Ala Modalaindi. This film is a romantic entertainer that is directed with ease by Nandini Reddy. The film just moves so smoothly, with some good scenes between the lead pair and also between families.
Mickey J Meyer has composed the songs and background score for the film Anni Manchi Sakunamule. The music in the film has a soothing and refreshing effect on the audience. He has successfully created the perfect mood for this feel-good film.
Production values from Priyanka Dutt and Swapna Dutt are good with all the beautiful locations and festive sequences.
End Note:
Anni Manchi Sakunamule is a feel-good love story and family drama that entertains audiences from every age group. So why wait, grab your chance to watch!
More Movie Updates:
PKSDT Title And First Look Announcement
Megastar Chiranjeevi's Bholaa Shankar Film Song Shoot In Switzerland
Click Here to Watch "Online Movies"