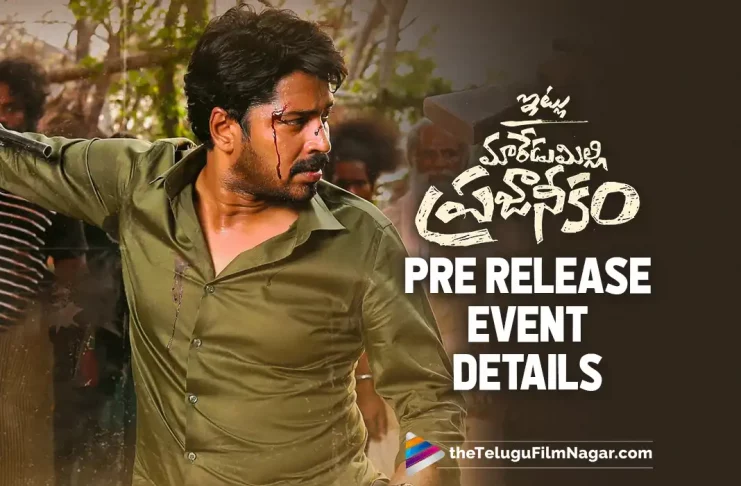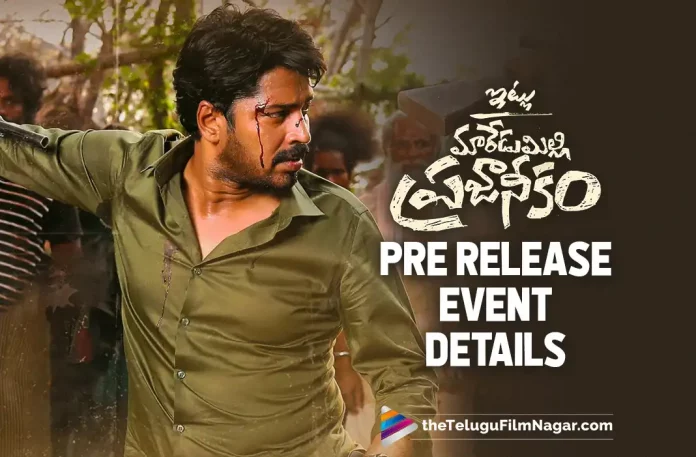 Itlu Maredumilli Prajaneekam is the upcoming movie of Allari Naresh. The film is going to be released in theatres on November 25. The film has very high expectations from the audience because of its content, as seen in the trailer. Itlu Maredumilli Prajaneekam deals with the rights of the tribal people and their fight against the government. Naresh was seen standing by the side of the tribals in the trailer for the film. It is so good to see Naresh in another serious role in a film with strong content. So the film is just a few days away from being a box office hit after its release in theaters. Meanwhile, the makers of Itlu Maredumilli Prajaneekam started the promotions for the film with only a week remaining before its release. The pre-release event for Itlu Maredumilli Prajaneekam was announced recently, and here are the details.
Itlu Maredumilli Prajaneekam pre-release event is going to be held at the Park Hyatt in Hyderabad. The event will take place on November 20th at 6 PM. The entire cast and crew of the film will attend the event. The chief guests are not yet announced.
Telugu FIlmnagar
Watch Telugu Full Movies Here:
ఎన్నికలకు అంతా సిద్ధం, మా #ItluMaredumilliPrajaneekam 🎪 కోసం జన సమూహం Nov 20న, Park Hyatt lo 😃

IN CINEMAS FROM NOV 25th💥#IMPonNov25th#IMP @allarinaresh @anandhiactress @dir_armohan @ZeeStudios_ @HasyaMovies @RajeshDanda_ @lemonsprasad @_balajigutta @zeemusicsouth pic.twitter.com/pM6BTae6aV

— 𝐕𝐚𝐦𝐬𝐢𝐒𝐡𝐞𝐤𝐚𝐫 (@UrsVamsiShekar) November 18, 2022
Itlu Maredumilli Prajaneekam is written and directed by AR Mohan. Razesh Danda produced the film under the banners of Hasya Movies and Zee Studios. Anandhi is the lead actress in the film. Sri Charan Pakala composed the music for the film. Itlu Maredumilli Prajaneekam is going to be released on November 25th.
More About Itlu Maredumilli Prajaneekam:
Itlu Maredumilli Prajaneekam Trailer Released: Allari Naresh Is Set To Deliver Another Solid Content
Itlu Maredumilli Prajaneekam Film Team Meets Nata Simham Balakrishna