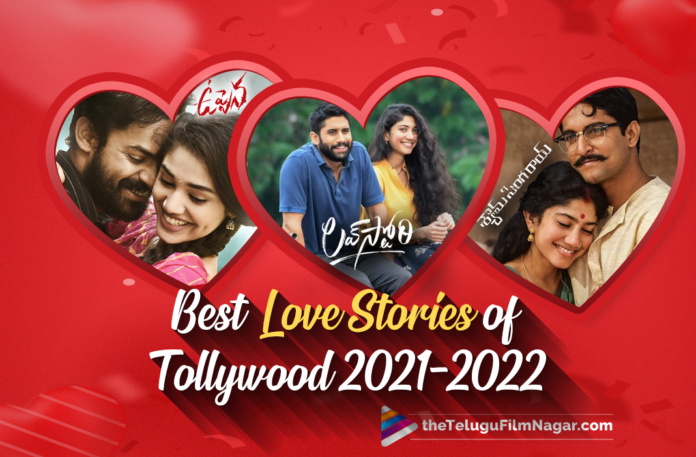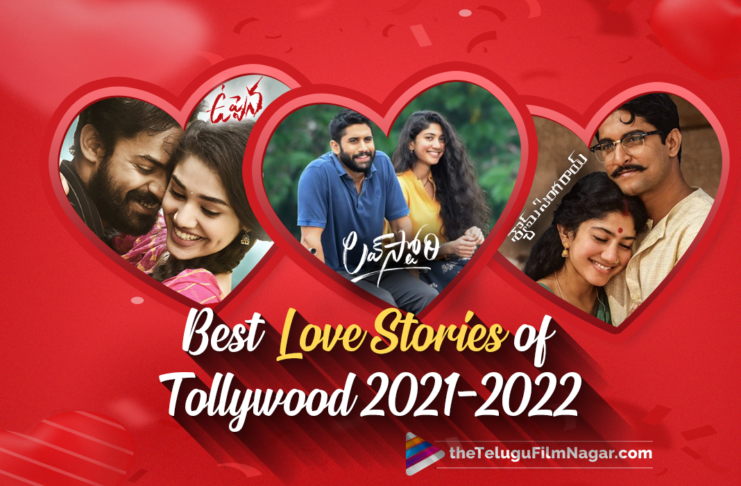 Tollywood has always produced the best love stories, especially in the last decade.  From Ye Maya Chesave to Arjun Reddy, be it romantic or sensitive, expressing the love in our stories in a most elegant way had never failed.  Now we are into another new decade from 2021 and today on the eve of Valentine's day, let us look into some best love stories.  Telugu Filmnagar brings to you the best love stories of Tollywood in the period of 2021-22, to be particular from last year's Valentine's day to till date. 
Telugu FIlmnagar
Watch Telugu Full Movies Here:
Uppena
The fresh director, the fresh story and the fresh actors is the best combination to express the best thoughts and feelings on screen.  Uppena was one such film that was released in February 2021.  The characters Aasi and Bebamma became so popular in the Telugu states with a unique chemistry between them.  The film has an underlying deep message that true love does not need any physical assistance to express it.  This theme was very well connected to the audience and they loved the film very much.  With the purity in the content, Uppena is truly a genuine love story.
Rang De
Love stories after marriage are a treat to watch.  The film Rang De offers the audience such an experience of love after marriage.  The love-hate relationship was perfectly portrayed in the film.  Also, the construction of love between the two lead characters is so well written and pictured.  Understanding and apology are the two key elements for a marriage life to go smoothly and those elements were discussed in detail in the film.  Loving someone before marriage at a younger age is easy, but loving someone after the marriage is so tough because the love after marriage needs to stand for a lifetime.  That is what Rang De shows us.
Ek Mini Katha
As discussed earlier, loving our life partner after marriage is one of the best parts of anyone's life.  But one should be totally open and genuine to their life partner.  Be it happiness or pain or an emotion is to be shared.  That's what Ek Mini Katha tells us.  The lead character Santosh could not express his insecurities to  his wife and struggles a lot within himself.  At a point, he loses her and then he realises that being true to his wife would bring her back to him.  And from then, Santosh leads his life happily without any doubts.
Love Story
Having faith in each other and respecting each other's skills and dreams is one of the most important qualities between any two loved ones.  This is what we find between Revanth and Mouni.  Love Story is one of the best love stories of 2021.  From building their careers together to risking their lives for their relationship, every aspect of love is shown in detail.  The love story of Revanth and Mouni stays far away from modern day romance.  This speaks volumes of their love.  Our life partner should be the one who lifts our spirits and gives us the confidence to succeed in career and life.  That's what Revanth and Mouni do to each other.
Most Eligible Bachelor
What do you expect from a married life?  This one question changed the mindset of an NRI.  It drove for more than two hours as a film.  It led to the transformation of the lead actor and helped him to find himself.  The film is Most Eligible Bachelor and the characters are Harsha and Vibha.  Vibha is a free spirited lady who enjoys life on her own terms but with clarity at everything she does.  What if such a girl meets a decent guy who is willing to be married?  That is the film Most Eligible Bachelor.  The film expresses the best meaning of romance.  Yes, one should expect romance from married life. 
Adbhutham
Many say that time, distance, destiny, etc., all these factors do not limit love between any two.  Even though it is an unanswered question, maybe yes is the most common answer that is never expressed.  Destiny brings two different characters Surya and Vennela together in the film, but from different timelines.  What if they fall in love with each other?  Yes, now the story really becomes interesting and that's Adhbutham.  Every attempt from the lead pair to meet each other shows how desperate they are to see and express their love to each other.  The story of Surya and Vennela is the story of love against destiny.
Shyam Singha Roy
Have you ever made any promise to your loved one and failed to keep it up?  It happens very often with us, but not with Shyam and Rosie.  Yes, we are talking about the film Shyam Singha Roy.  Shyam fights against the evil practice of Devadasi system to set his love interest Rosie free from that dark world.  Shyam gives Rosie enough confidence to step out from the dark world.  Shyam shows Rosie the beauty of the outside world.  Shyam gives Rosie wings to fly and sets her free.  All these show Shyam's love towards Rosie.  But Shyam could not get back to Rosie due to an unexpected danger.  Rosie keeps waiting for him for years and years.  But Shyam keeps his promise and comes back to Rosie in a new life and that's the epitome of love.  A promise once made will be kept in any situation, even after death.  Shyam and Rosie's love story is probably the best love story of 2021.
Also Read: Radhe Shyam Valentine Glimpse Out Now
Telugu Film Nagar
Watch Telugu Online Here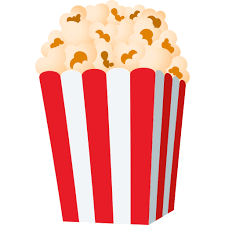 Subscribe to our Youtube Channel
Telugu Filmnagar
for the latest Tollywood updates.
Download the My Mango Appfor more amazing videos from the Tollywood industry.