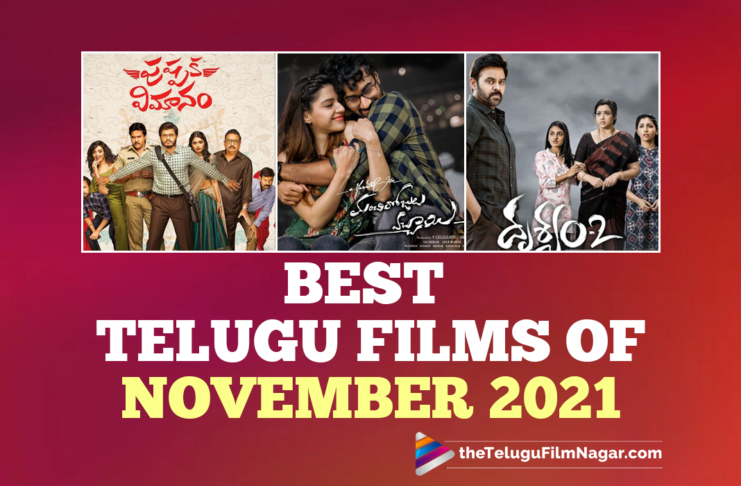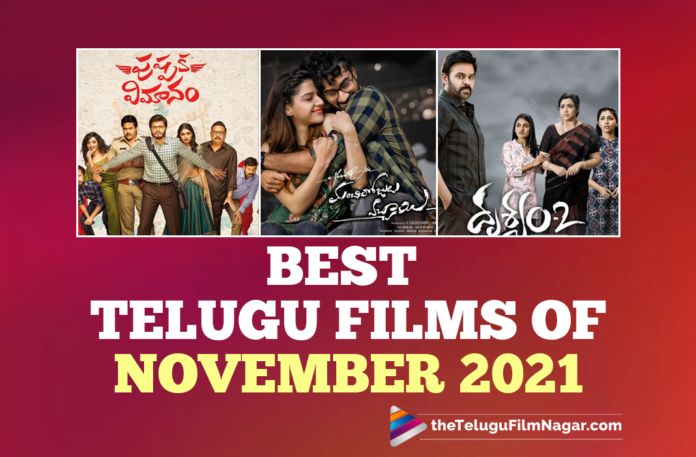 Welcome to Chapter Eleven of our choices, respect, and acknowledgment of some Best Telugu Films of 2021.  This article deals with the releases of November 2021.
Read our previous article on the releases of October 2021 here. Best Telugu Films Of October 2021
Telugu FIlmnagar
Watch Telugu Full Movies Here:
The films released in November 2021 are Manchi Rojulochaie, Pushpaka Vimanam, Raja Vikramarka, Adbhutham, Drushyam 2: The Resumption, Anubhavinchu Raja and 1997.
This article deals with some decent good films that are recommended for our audience.
Manchi Rojulochaie
After consecutive big films, director Maruthi took a step of making a small film Manchi Rojulochaie with Santosh Shobhan in a limited budget with the support of UV Creations.  The film is a decent rom com showing the struggles of a father to clear his doubts about his daughter's love.  Ajay Gosh was the central attraction of the film.  The production values were good enough even though the film was shot in the lockdown.  The concept and the comedy in the film worked perfectly.  The film can be watched for the message mixed up with the comedy.
Pushpaka Vimanam
The film Pushpaka Vimanam got enough craze with the aggressive promotions by Vijay Deverakonda and Allu Arjun.  The film deals with the story of an innocent husband trying to find the whereabouts of his eloped wife.  Anand Deverakonda needs appreciation for accepting such a role.  He performed really well.  Saanve Meghana made good use of the opportunity.  The plot itself was the highlight of the film.  It keeps us engaging and exciting throughout the film.  The film is recommended for the laughs and twists served to the audience.
Drushyam 2
Standing upto the expectations of a critically acclaimed prequel is a tough task and Drushyam 2 succeeded in it.  The film shows how the character Rambabu put all his efforts and intelligence to save his family from the effects of the crime they had committed six years ago.  With all the experience he had, Venkatesh succeeded in carrying the same intensity he showed in the first part.  The dop and the art department needs to be appreciated for creating the same world again without any fault.  The film continuously surprises us with all the twists and turns.  Drushyam 2 was a perfect suspense dish that everyone should have in their menu.
These are our picks for the month of November.  There can be few other films which can be discussed here.  But as we said earlier, this article deals with some decent Telugu Cinema.
Finally, our best pick for November 2021 is Drushyam 2.
Keep following this sequence and Telugu FilmNagar to know our choices for December 2021.
Also Read: Who Is Your Favourite Music Director Of 2021? Vote Now